February 23, 2013
The TSP stock funds have been on a tear recently, rising on average between 7% and 11% over the past three months.
Another development, however, points to the underlying strength of the companies that make up the S&P 500 and the C Fund. S&P Dow Jones Indices – the group that oversees the S&P 500 index – noted that the number of companies that have been paying out dividends has steadily risen since the recession. By the end of 2012, 403 of the S&P 500/C Fund companies were paying dividends, the highest number since 1999.
By comparison, the number of companies paying dividends steadily decreased from the early 1980s, from 469 in 1980 to 438 in 1990. In 1999, as the late-1990s stock market bubble reached its zenith, 402 companies paid a dividend.
Through the ensuing years, the number dropped as low as 351 in 2002 — at the depth of the first steep market decline. The number rose to 390 in 2007 as the market recovered only to drop again to 363 in 2009, again at the depth of the second steep market decline. The number of dividend payers has steadily risen since then.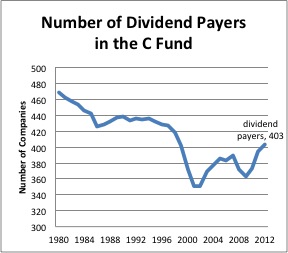 Number of Dividend Payers in the C Fund, 1980-2012
Dividends are important because they provide a significant portion of the return on the S&P 500/C Fund return. John Bogle, the creator of the first S&P 500 index fund in the 1970s, highlighted in an October 2007 speech the importance of dividends in the S&P 500:
"An investment of $10,000 in the S&P 500 Index at its 1926 inception with all dividends reinvested would by the end of September 2007 have grown to approximately $33,100,000 (10.4 percent compounded). [Using the S&P 90 Stock Index before the 1957 debut of the S&P 500.] If dividends had not been reinvested, the value of that investment would have been just over $1,200,000 (6.1 percent compounded)-an amazing gap of $32 million."
The more companies that pay out a dividend each quarter, the higher the potential C Fund yield in aggregate, and the better the return of the fund.
Hopefully, this positive trend will continue in the coming years.
Related topics:
c-fund
long-term-investing
longevity